Love and Light for our Lifesavers
Not many quads live alone. And so it is in my adventurous spirit to push the envelope and achieve living alone in my apartment as a full quad. Every single day, I need 100% assistance getting in and out of bed, positioning, dressing, eating, transportation, washing dishes and laundry, cleaning house, watering flowers … The list is long and goes on for miles. And so it is in the season of gratitude and showing thanks during caregiver awareness month that I bow down symbolically to 7 wonderful, smart and dedicated women that allow me to live my life independently, safely in helping me return to some form of even a smidge of normalcy that I once had in my prior, pre-injury life.
Names like Linda, Debie, Janelle, Bridget, Deirdre, Kaylie and Nikki come to mind when I think of the EB pit crew/ lifesavers of my life. They do things for me that only they and I can understand and appreciate. Showing up to wake me in the morning, in a quiet apartment where only I sleep singularly with my iPhone propped near my face so that if in an emergency, they are able to speed over to my apartment to tend to a crisis that I have no control over and cannot help myself through.
One particular emergency as of late has been full-body overheating. On these mornings, I wake up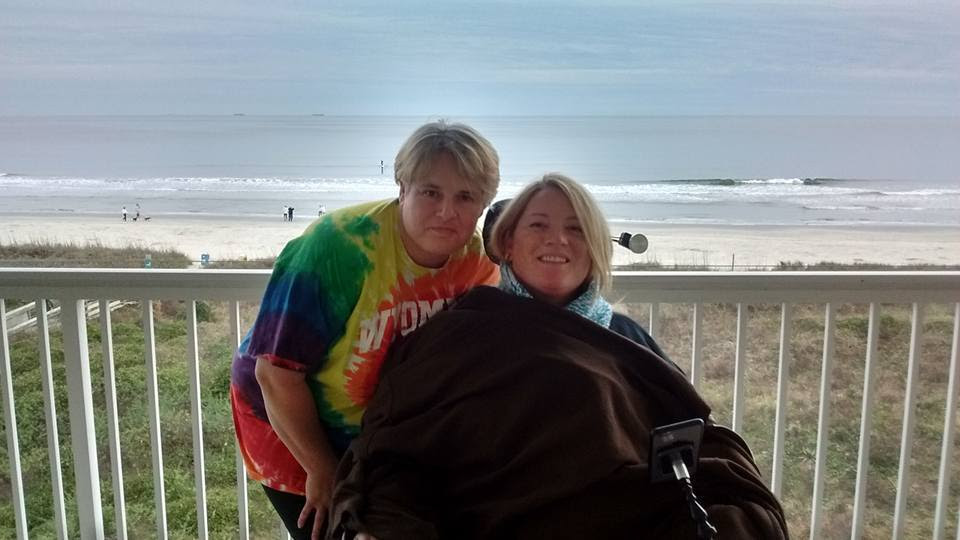 usually around 4:30 or 5 a.m. in total darkness with my fully paralyzed self buried under blankets I cannot physically remove as my body blazes with heat– kind of like my own form of self-rotisserie chicken roasting. My face represents a previous form of myself after running a half marathon, red-faced and sweating. Anxiety grows over the hours as I anxiously await 8 a.m. when my caregiver arrives quickly to peel off the blankets and wipe down my scorching skin with a cold, wet washcloth for almost 30 minutes to emulate a form of false sweating so that I may not feel like 130°, cooking from within. These mornings are the worst and often times I ride a fine line between hysteria, tears and complete anxiety. My caregiver comforts me out of this frantic state into some form of mental calmness transitioning me into the groundhog day of my life as a quad where I must appear positive, happy and unaffected by the total and utter helplessness of my morning.

It is a job, a real paying job to take care of me on a daily basis that takes effort and time. But the job is not just a job, for these women caregivers in my life look beyond the hourly wage and see me as a woman trying to find love and light in my life after the incredibly huge curveball of life hit me smack dab in the face three years ago. They care about me, they love me like a sister and a best friend. The feelings are mutual and they have become my family.
These women are the quiet ones in the corner, never wanting or needing a nod of thanks. In fact, most of them don't want to be recognized at all. But it is in a moment like this that I have the opportunity to publicly thank them from the bottom of my heart for all they do on a daily basis for me. Most are unaware of their presence, their efforts, and their incredibly important part of my life yet I know I would be literally lost and probably not of this world without their daily care and attention over the last three years.
And so it is in conclusion that I call out to all those in our paralyzed community with the understanding we are all in the same rickety boat sailing through this incredibly difficult journey of life together with many twists and turns affecting our health and mental state. Let it be in this understanding and true appreciation for our captains that help us steer forward in a positive direction –our caregivers, our ambassadors of life. For it is with their love, attention, and assistance that we may steer this boat together as a family of paralyzed souls finding light, love, and happiness in our lives wherever we are destined.